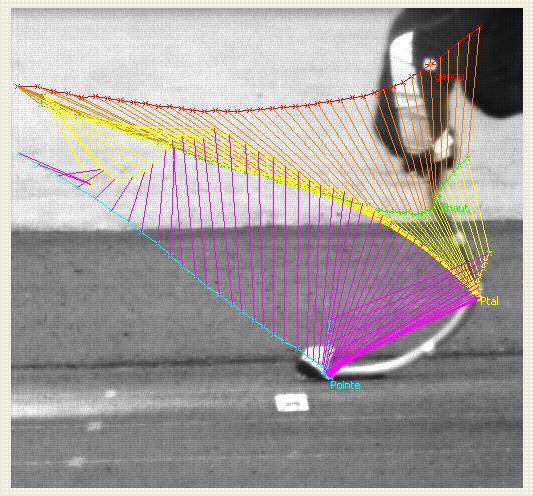 Depuis 2005, nous réalisons des essais en acquisition rapide d'images notamment sur des explosions, des ruptures fragiles ou de l'expansion brusque de fluides. Nous avons la possibilité d'enregistrer à très haute fréquences grâce à des capteurs comme la Photron SA3 qui permet 2000images/seconde pour 1Mpixels et la Phantom V711 (7530fr/s, 1MPixel) ainsi que la V2512 (26000fr/s, 1MPixel).
Ces systèmes sont couplés à de l'éclairage tels que des lasers pulsés (527nm 1000Hz – 15mJ, 532nm 15Hz – 250mJ) ou continus (532nm, 2W), des spots HMI de 2KW puissance ou des LED blanches superluminescentes…18000lumens.
Since 2005 we are dealing with high speed imaging for different kind of applications such as explosions, brittle fracture, fluid expansion …
We have now the possibility to record at very high frame rates with sensors like Photron SA3 enabling 2000fr/s for 1Mpixels and Phantom V711 (7530fr/s, 1Mpixel) and also the V2512 (26000fr/s, 1Mpixel) .
These systems are coupled with different lighting such as double pulse lasers (527nm 1000Hz – 15mJ, 532nm 15Hz – 250mJ), continuous laser (532nm, 2W), white light 2kW HMI projectors or superlum white LEDs…18000 lumens.
Ejection brutale de liquide — Expanding liquid jet : ROI 8m*2m(Image Courtesy of CEA-Gramat, France)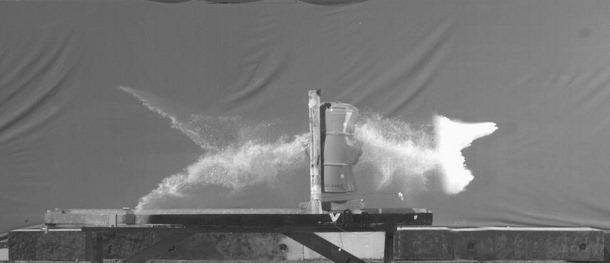 Pour voir vite et de loin...
Just to see fast from far away…
Et aussi avec une Phantom V711 (Grandissement 13µm/pixel à 91cm), couplée à Questar FR1MKIII
And also with Phantom V711 (Mag. 13µm/pixel, WD=91cm), coupled to Questar FR1MKIII

Rupture d'une fibre de lin
Onde de souffle sur gouttes tombantes
Blast wave on falling droplets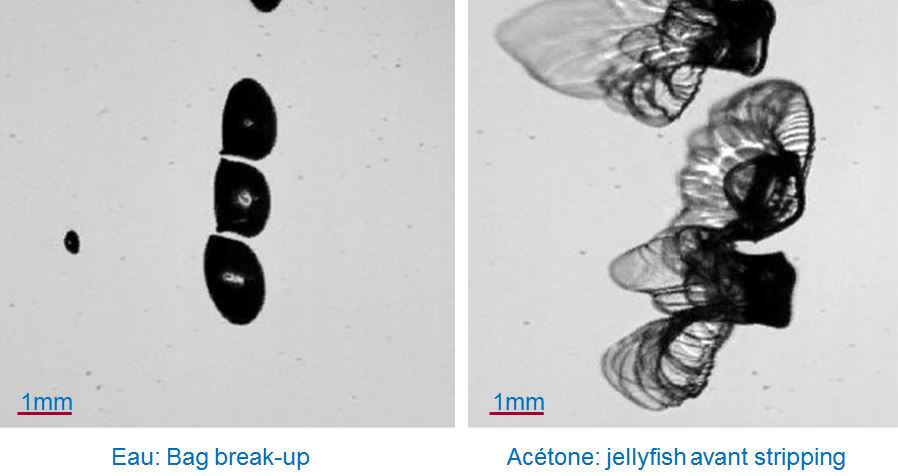 Mesure de vélocimétrie de particules par imagerie
PIV measurements after catastrophic breakup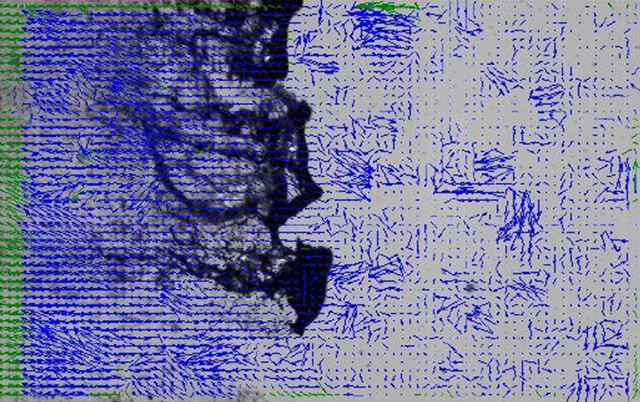 Imagerie d'onde choc et calibration de capteur de surpression: camera PhantomV2512 168000fps et ombroscopie champ large (ROI 30cm*1.5cm)
Shockwave high speed imaging and calibration of overpressure sensor: Phantom V2512 camera, 168000fps, direct shadowgraphy (ROI 30cm*1.5cm)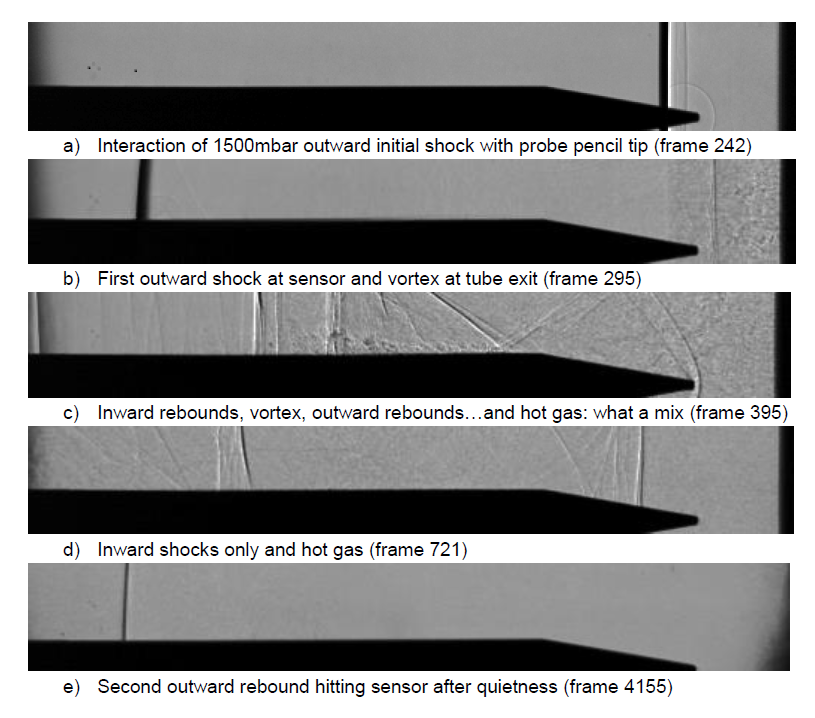 Analyse d'un UVCE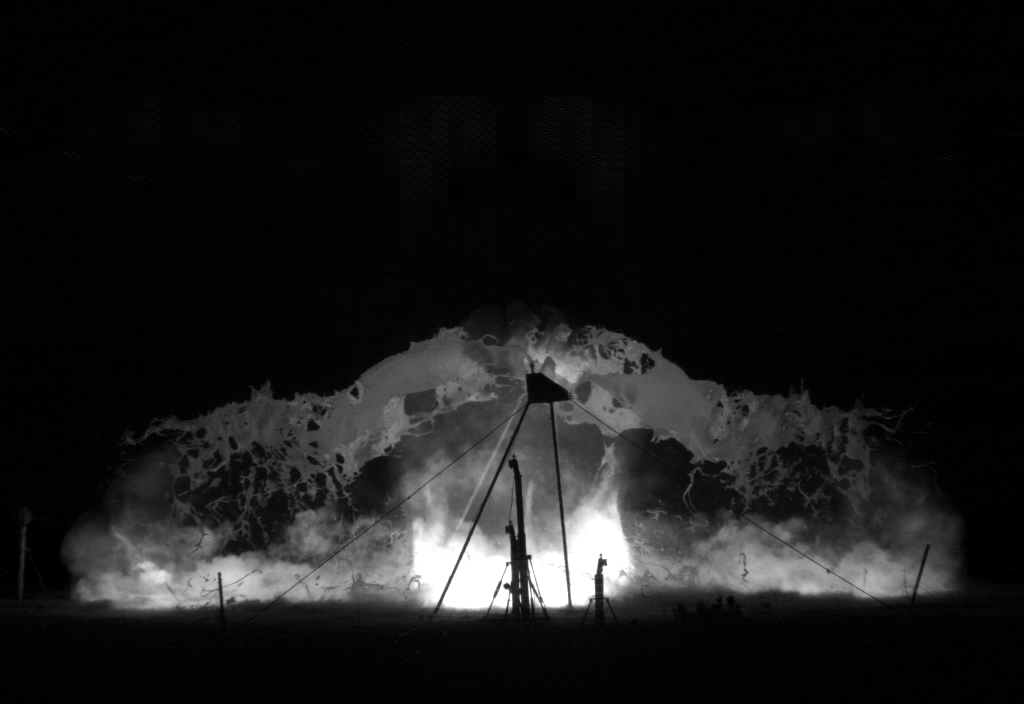 Premiers instants d'un UVCE (ROI 6m*3m),  temps d'exposition 293ns, 20kfps
Very first instant of UVCE (Unconfined Vapour Cloud Explosion), 293ns exposure time, 20kfps
Santé
Cheers
Travaux pratiques d'éleves
Students practical exercises
[youtube]https://www.youtube.com/watch?v=kwbF_OpE0g8[/youtube]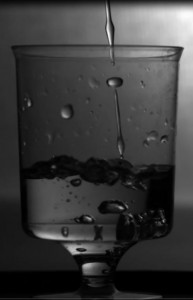 [youtube]http://youtu.be/-p0-VSZ4DgE[/youtube]